In the construction industry, there are numerous ways to bill a client. One area that tends to cause angst and induce stress is Labor Equipment and Material (LEM) ticketing. Ticketing is typically the intent of creating a specific statement of work (SOW) based off of predefined contracted rates. Many ERP software products handle these predefined contracted rates but will lack the functionality to define the LEM ticket and proper billing. These tickets tend to occur in a more fluid method when compared to a standard contract. A client can request the ticket in the field from the contractor. In the past, the tickets have been triplicate forms where an agreement was reached on the field and relayed back to the operators of both entities for proper accounting.
LEM Ticketing Automation for Viewpoint
LEM tickets tend to pile up quickly and can be difficult to organize. Not to mention, keeping track of each and every ticket number is a full-time job within itself. BIG eliminates the duplication and triplication, making job billing, job costing, and payroll ten times easier than traditional methods. Our LEM ticketing app automatically generates a unique ticket number for each change order per job that occurs based on set parameters that you choose. Anything associated with that ticket number, such as crew equipment and employee equipment, is followed through Vista to the very end when the client is billed. Additionally, the information attached to the LEM ticket number shows up in Vista's PM Daily logs, as well as custom reports for each ticket each day.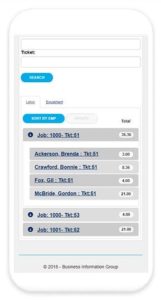 The app is created with contractors in mind, as it is customized to fit their business needs. Project managers, foremen, accounting, and operations can pull specific reports from wherever, whenever they need. Employee time sheets are also made easy with our LEM ticketing app. Able to be sorted by employee, contractors can easily see the exact employees that were on a specific job, how many hours they spent on the job, and what equipment they used.
Capturing important information from the field doesn't need to be a hassle, especially when billing and payroll are involved. BIG's LEM ticketing app keeps track of important change order data for you, so you have one less thing to worry about on-site. The app has capabilities to separate out change orders that need to be signed-off on by clients, making keeping track of approved work a breeze. All of these powerful functionalities make the end result of billing your client that much more organized.
Streamline Your LEM Ticketing Process
If you're a contractor looking to streamline your LEM ticketing process, Business Information Group's team of dedicated developers have the capabilities to design and build an app specific to your needs. To learn more about our LEM ticketing app, or any of our other Vista mobile applications, contact us today.