Helping You Find the Right ERP for the Construction Industry
Enterprise resource planning (ERP) platforms are necessary to be profitable in the construction industry by combining accounting, project management, and field reporting. ERP systems can help companies like yours complete projects on time and on budget by having access to real-time accurate data for decision making.
Most companies are transitioning to Vista by Viewpoint for many reasons. Let's take a look at how Vista compares to the competition.
TECHNOLOGY
Other ERPs have limited platforms that do not include custom reporting across information sources.
Viewpoint is built on a SQL database platform, which allows customized reporting on any data that resides in the database.
REPORTING
Other ERPs comes with a few generic, default reporting features. Some try to bridge these limitations with Excel spreadsheets to better connect operations and accounting, but that's the exact type of situation an ERP should remove!
Viewpoint provides custom reporting options, including Crystal Reports and SSRS (SQL Server Reporting Services). These allow you to showcase key data and measurements in easy-to-understand reports.
DEVELOPMENT & INTEGRATION
Other ERPs software products are not as customizable or are as easy to integrate with 3rd party applications.
Built with customization in mind, Viewpoint is flexible enough to meet your demands and needs. Every aspect of Viewpoint can be customized, including the interface, data structure, views, and reports. The ease of development and customization allows Viewpoint to fully integrate into every area of your business.
SECURITY
Other ERPs provide limited security to protect your company's data.
Viewpoint integrates robust security features – including user authentication, Mobile Device Management (MDM), and encryption – into the core of the application, keeping your data safe and private.
SPEED
Other ERPs have slow & convoluted reporting options, and it is easy to bog down the whole system.
Viewpoint's reporting system is fast, efficient, and accessible across a variety of devices.
CUSTOMER SERVICE & SUPPORT
Other ERPs force customers to rely on online resources or forums to find a solution when a problem arises.
Viewpoint customers rely on their Viewpoint consultant for support, service, and questions. In addition, the Viewpoint partner is there to help with implementation, software updates, and creating custom reports.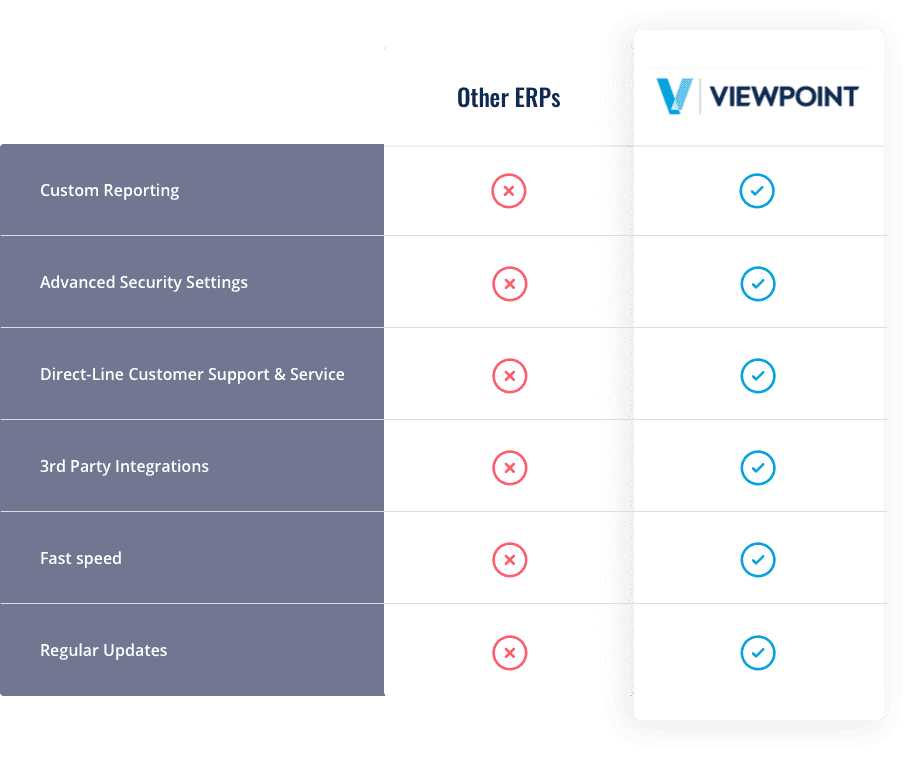 We feel that Viewpoint is uniquely suited to help us continue to meet the challenges of our customers
"As we celebrate 40 years in business and look forward to the future, we feel that Viewpoint is uniquely suited to help us continue to meet the challenges of our customers. After a thorough review of over two dozen candidates in the market, we found that only Vista by Viewpoint was able to meet all of our database infrastructure, document management and mobile connectivity needs."
Have you hit the limitations of your ERP?
We've heard the same story dozens of times: a growing construction company invests heavily in switching to another ERP, only to spend thousands of hours and hundreds of thousands of dollars trying to make up for the platform's shortcomings.
Now that you've experienced a popular but limited ERP platform, consider the best. Viewpoint's customization, flexibility, and robust features will help you forget about the weaknesses of your former software solution.
If you have not yet decided on a ERP platform, don't make a mistake. Viewpoint is the industry's leading software provider that provides the features the construction industry demands.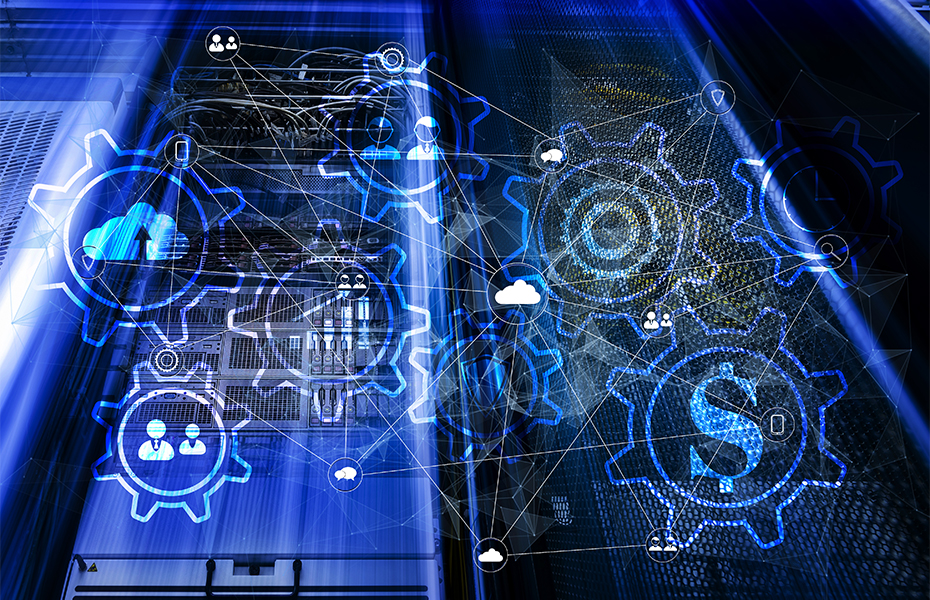 Start a conversation
See how implementing an ERP can streamline your business.