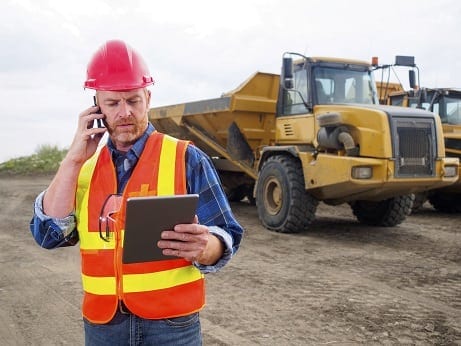 The realm of the traditional IT department and related staff used to be in a back corner of the office, emerging only when a business user ran into a problem, or the network or a critical server suddenly stopped working.  In traditionally conservative industries like the Engineering and Construction space, this delegation of IT to the background who only becomes useful when something stops working is even more prevalent.
A report published in early 2016 by research firm JBKnowledge showed that the average IT expenditures across 19 diverse industries was 3.5% of revenues1.  Taken as a whole, the construction industry spends on average 60% – 70% less on Information Technology projects than other industries.
This relatively low rate of IT expenditures is worrisome, given the ever decreasing costs when it comes to technology, especially physical hardware such as smart phones, tablets, laptops, and even servers and networking equipment.  The conclusion is that the average Construction firm is likely continuing the trend of approaching IT as simply a reactionary cost center, without taking advantage of the strategic value they bring to the table.
What is this strategic value?  Technology partners can work within an organization at every level:
An accounting clerk can improve efficiency by having a second, larger monitor on their desk for the scanning and coding of incoming Invoices
A Payroll manager can improve efficiency, reduce human error, and even reduce staff by automating payroll functions, such as allow employees to enter time in the field on tablets or outsourcing document retention and employee delivery of pay stubs
The CFO can improve cash flow by submitting invoices to clients and building owners electronically; and improve vendor and subcontractor relations by accepting and paying electronic invoices on the accounts payable side
The Operations Manager can better manage labor and equipment across multiple construction sites utilizing an electronic dashboard system, improving efficiencies and both labor and equipment utilization
The Legal Counsel can be better prepared to respond to business disputes with easily searchable and properly secured document and data retention systems
The examples noted above are just some of the various ways that a proactive approach to IT can add value to the business.  Construction firms that leverage IT as a strategic partner tend to also implement Continuous Improvement Programs.  All too often, when new software or hardware is purchased and integrated into the business, the product is simply put in place and then used without any thought for continual improvement.  Getting the most return on investment in technology requires constant review and process improvement so that the business utilizes technology in the most efficient manner possible.
The expectations around conducting business in the 21st century have shifted.  Employees want access to pay stubs and HR information electronically.  Collaboration between owners, general contractors, engineers/architects, and subcontractors/vendors is moving to electronic platforms more and more.  Without having that flexibility and framework in place, construction firms stand to lose out work to those that are leveraging technology to grow their backlog and increase their daily production.
In short, technology, when implemented correctly, can help a construction firm add to the bottom line.  Much like adding equipment to a job site can reduce costs and improve the rate of work, IT expenditures can do the same for both the back office and field employees.  Other industries, especially manufacturing and retail, have bought into this mindset with great success.  It's time for the Construction, Engineering, and Architecture space to embrace the same ideals.
1 2016 Construction Technology Report, JBKnowledge (http://jbknowledge.com/2016-construction-technology-report-survey)