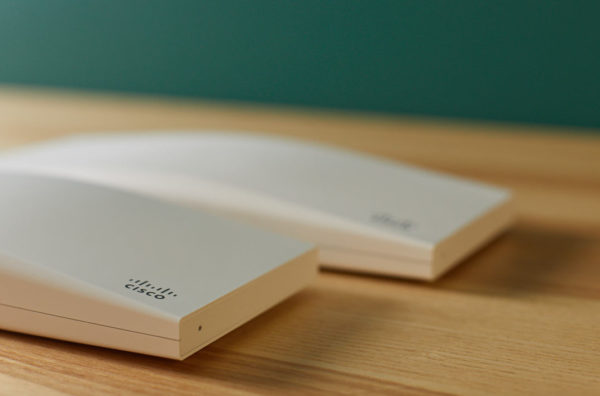 Meraki Wi-Fi 6 Compatible APs
By now, you've probably heard the term Wi-Fi 6, or 802.11ax, and how it's going to change the world. If you haven't, you can catch up on the basics of Wi-Fi 6. Essentially, it will drastically improve the current wireless world by delivering superior connection, reliability, better battery life for devices, and perform better in real-world scenarios where Wi-Fi often lags (i.e., in airports and stadiums). As Wi-Fi continues to be the most efficient way to deliver a dependable wireless connection, and as more businesses begin to support Wi-Fi 6, it's important to embrace this new age of connectivity. That's why Cisco Meraki released Wi-Fi 6 compatible access points (APs).
Wi-Fi 6 compatible APs bring the benefits of the significantly faster Wi-Fi 6 standard to businesses, providing an uninterrupted, enhanced user experience. The Meraki MR45/55 Wi-Fi 6 APs still have same benefits of earlier models, such as integrated Bluetooth capabilities, but they take performance to the next level. Since Wi-Fi 6 provides faster throughput and performs better in high density environments, user devices will become more responsive and ultimately perform better. The APs are built and optimized for the best user experience resulting faster connections and better coverage in high client density environments.
The features of Meraki's Wi-Fi 6 APs are just as powerful as Wi-Fi 6 itself. Equipped with high performance hardware, these access points are built for high demand uses, including high-density deployments. Meraki APs also have the capability to support performance-intensive uses like 4K video. Additionally, access points offer multi user-multiple input multiple output (MU-MIMO), which improves the user experience by allowing multiple clients to receive data simultaneously. More importantly, these latest APs deliver a safe and secure wireless network. Features such as integrated enterprise security and guest access enables a secure connection for employees and visitors; the dedicated 3rd security radio continually scans and assesses the environment for interference's and vulnerabilities; and the identity-based firewall automatically assigns firewalls for each class of users. These robust features, along with many other capabilities, give Meraki Wi-Fi 6 compatible APs their competitive advantage.
Not only do Meraki's access points come with an impressive list of features, the access points are managed through the Meraki cloud. The access points are managed over the web on a browser-based interface, making deployment quick and able to be done remotely. In addition to the 24/7 network monitoring that immediately responds to and troubleshoots issues, firmware is always updated via the cloud. System updates, bug fixes, and new features are automatically installed, eliminating manual system updates. The cloud-based platform makes managing networks easier than ever.
The new wireless landscape of today demands always-on, always reliable connectivity. With more and more devices entering the hands of individuals each year, it's important for companies to embrace the new era of connectivity for their employees and for their guests. Wi-Fi 6 is the next frontier of wireless internet and Cisco Meraki's Wi-Fi 6 compatible access points were created with the complex future of IT in mind. If you're looking to learn more about the capabilities of Wi-Fi 6 and how the Meraki MR45/55 Wi-Fi 6 APs can bring your business to the new era of Wi-Fi, contact Business Information Group, Inc. today.