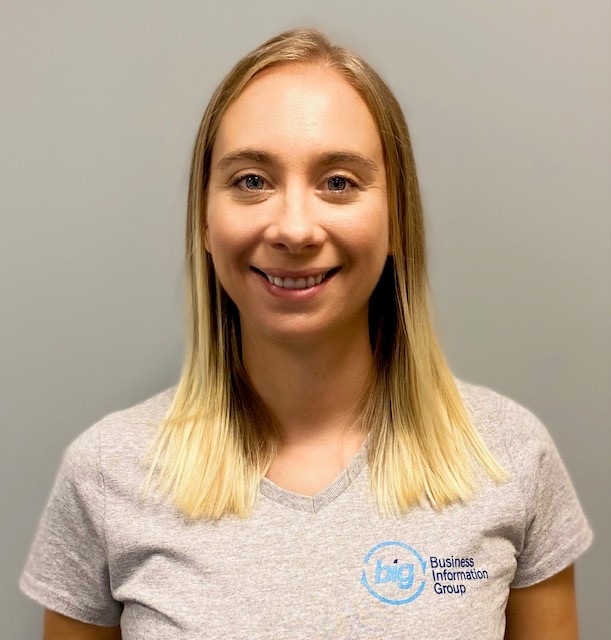 BIG's Newest Additions
York, PA– Business Information Group announces three new additions to the organization. Nicolle Ruth has joined the Wireless division as a Project Coordinator, Matt Thomas has joined the Networking department as a Senior Cloud Engineer and Jessica Alcott has joined the Professional Services department as a Senior Software Consultant.
Nicolle Ruth, Project Coordinator, will be providing support for Business Information Group's infrastructure projects. Her primary focus will be coordinating project-related activities for BIG's customers and internal resources. Nicolle brings with her over 10 years of experience in customer service and office management. "In her short time with us, Nicolle has brought a ton of energy and enthusiasm to our team," said Roger Hayes, Vice President Service Delivery & Field Services. "From day one, Nicolle has exhibited a willingness to learn and to immediately contribute. We are excited to have Nicolle on board." Nicole resides in York, PA.
Matt Thomas, Senior Cloud Engineer, will help to further develop Business Information Group's growing portfolio of regional and national cloud clients. As the trend continues toward moving corporate servicer environments to cloud services, Matt will give BIG more flexibility to service our clients at a high level while expanding our footprint. Matt joins us with a background in server administration and Office 365, along with extensive experience in Azure and Amazon Web Services, holding industry certifications in both. "Matt's experience in cloud-related solutions will allow BIG to better design, implement, and manage Cloud solutions for all of our clients," said Patrick Rumbaugh, Director of Network Operations. Matt resides in York, PA and enjoys spending time with his kids and playing guitar in his free time.
Jessica Alcott has joined Business Information Group as a Senior Software Consultant on the Viewpoint Vista team. She will continue to help grow BIG's portfolio of regional and national Viewpoint clients by implementing and training new and existing customers on Viewpoint software. "Jessica brings seventeen years of construction accounting and operations experience, including ten years implementing multiple software solutions across the construction industry," said Tim McNally, Director of Software Consulting. "Her contributions will be invaluable as we continue to expand our consulting practice."
About Business Information Group
Established in 1989 by brothers Scott & John Dolmetsch, Business Information Group is an information technologies firm located in York, PA with a team of more than 100 experienced professionals providing services in Network Design & Implementation, Managed IT Services, Wireless Communications and Custom Application Development.  BIG's team has 375 years' combined experience in the industry which contributes to the successful evaluation of technical challenges, the ability to integrate core technologies and orchestrate project execution.