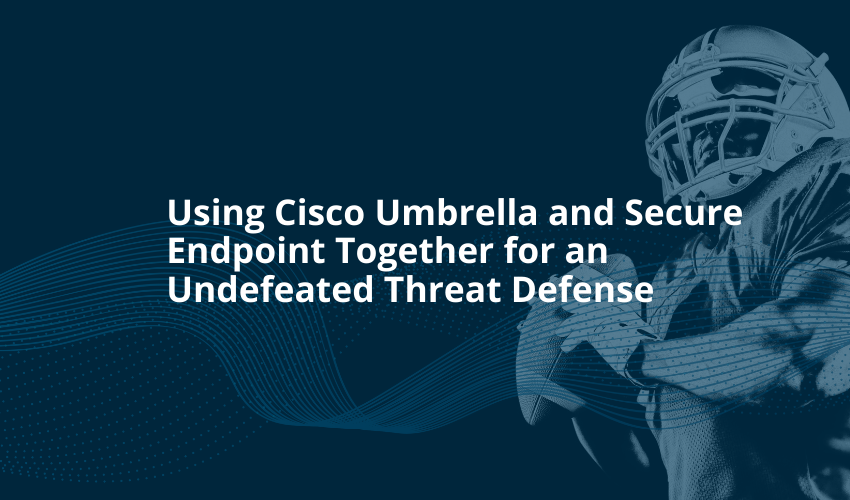 As they say in sports, "The best offense is a good defense." That's how teams win games, become champions, and find themselves at the Big Game. But that adage goes beyond the Sunday night football game and can be applied to just about anything – including your organization's cybersecurity strategy.
Cybercriminals are making more plays than ever to exploit your growing number of endpoints and remote workers in different locations. That's why you need a tight line of defense to ensure productivity while keeping your network and data secure. We may not be professional football players at BIG, but we are cybersecurity pros and we're here to give you the tools to unlock a game-winning strategy to defeat cybercriminals and protect your business.
Umbrella + Secure Endpoint
As the number of endpoints continue to rise, the need for enhanced security and comprehensive insight becomes more apparent. It's now critical for businesses to have a holistic view of their entire security domain along with real-time intelligence and reporting. with unmatched visibility and threat protection to protect devices, users, and distributed locations with Cisco Umbrella.
You may have heard of Cisco Umbrella before, or even have it deployed in your organization. Umbrella is a secure Internet gateway, providing the first line of defense against threats on the internet. It enforces security at the DNS and IP layers to block the bad guys from getting in via malware, ransomware, and phishing, thus stopping threats before they can reach your endpoints or breakthrough to your network.
How does it work? Its secure web gateways log all web traffic allowing for greater control and transparency. Security teams can inspect all HTTPs traffic, block specific URLs, and protect against advanced malware. As a cloud-delivered, open platform, Umbrella makes it simple to set IP, port, protocol, and app rules to prevent unwanted activity in just a few clicks and can be easily integrated with your existing security stack.
You might be thinking, "That sounds great, but what about my growing number of endpoints?" That's where Cisco Secure Endpoint comes into play. As a single-agent solution, Secure Endpoint goes beyond basic endpoint protection, providing advanced detection and response across multidomain control points on top of cloud-delivered endpoint protection. Secure Endpoint comes with Cisco SecureX built-in, meaning more visibility and up to 85% faster extended threat detection and response.
Cisco Secure Endpoint maintains the last line of defense with rapid incident detection, response, and remediation for advanced coverage. It brings together Endpoint Protection Platform (EPP), Endpoint Detection and Response (EDR) and Extended Detection and Response (XDR) for added layers serving as one, unified defense.
Stronger Together
We know your users' devices are difficult to defend. Together, Cisco Umbrella and Secure Endpoint protect your users against malware, phishing, and command-and-controlled callbacks anywhere on any device. This unbeatable gameplan provides automated, always-on security with advanced analytics and real-time reporting, so you can have confidence you'll win the game against cybercriminals.
With BIG and Cisco as your defensive lineup, you can focus on scoring new opportunities instead of worrying about the bad guys. Not sure where to start? We've got you covered. From conducting recovery efforts after an attack to designing secure networks that proactively defend against threats and attacks, BIG's team provides the experience and support your company needs. It's no wonder we were named among the top cybersecurity companies in Central PA – 2 years in a row!
About Business Information Group
Since 1992, Business Information Group has been on a mission to become our clients' most trusted technology partner. Every day, we help businesses improve operational productivity, create competitive advantages, and enable meaningful business transformations with cutting edge solutions and innovative business practices. To learn more visit our homepage.