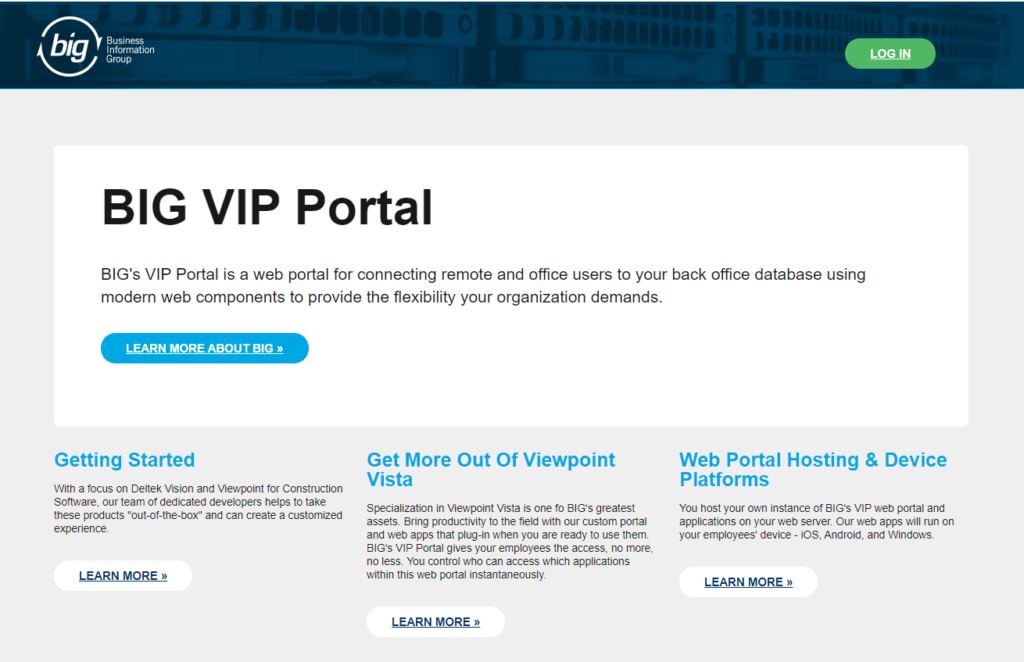 BIG'S APPS THAT HELP STREAMLINE YOUR JOB SITE
Data capture and entry while in the field can be a time-consuming process that often requires transposing physical documents into your enterprise resource planning (ERP) software, as well as constant filing and searching for paperwork. Finding ways to streamline the way you record and access your data in the field can help you focus more on getting the job done. That's why software developers at Business Information Group have created a solution by integrating sophisticated tools into the Viewpoint Vista ERP to help automate your day-to-day processes.
These tools, or applications, are easily accessible by signing into BIG's custom web portal. The portal offers a series of apps including mobile questionnaires, time sheets and expense reports, and QR code badges. The mobile questionnaire feature allows users to create and complete daily or weekly checklists, certifications, accident investigation reports, inspection logs, and general surveys. Once captured, the data can be tracked by the answers given in user defined tables which are available for review immediately. The captured data can be viewed in a separate app in the BIG Portal, either by employee name or by the certification type. For example, a foreman on a jobsite can use this app to view all users who passed a certain certification or to find an employee with the proper certification needed to operate heavy machinery.
One of the most frequently used questionnaires featured is to complete and track certifications in the field. BIG's Heavy Equipment Operator certification package can be used to survey each piece of equipment and tell the Certifier what they are they are eligible to give certifications on. At the end of the survey a pass/fail notice is given. The survey is uploaded into the ERP and updates the employee's Certification record as well. The surveys can be customized with simple pass/fail questions, as well as open-ended question types.
Time and expense tracking in the field is another obstacle construction firms often face. Current processes may require having physical time sheets filled out by a foreman or having the information sent to someone else to enter into their ERP. With BIG's mobile portal, employees can use the same portal to submit not only their time sheets, but also their Labor, Equipment, Material (LEM) tickets. This app allows for time to be entered per job and phase for one user or an entire work crew at once. Weather, job conditions, and additional notes can also be added to an LEM ticket for each date entered. Time submissions captured in this tool are immediately stored in the ERP, are available for editing, and for payroll processing. Previous entries can be easily reviewed and accessed, making review of older time and LEM entries a breeze.
QR codes for badges is an additional app that grants access and logs vendor visits to the job site. As Greg Gross, Lead Development Consultant for BIG, explains in further detail. "In the Vendor Scan App, Vendors (Subcontractors) are checked in when they enter a job site, so you know who was on the job site each day. The information is then saved to your ERP for reporting use. The person at the site responsible for checking in vendors can either do so manually by selecting the vendor name from a list specific to that job, or have the vendor scan their badge by putting the app in Kiosk Mode.  The badges are printed, using a free google tool, on plain paper (expensive plastic badges are not required). The QR code on the badge holds the personal information for the vendor and is picked up on the scan." This specific app can be especially useful for contact tracing purposes on job sites.
Utilizing BIG's suite of apps is simple and can be accessed from any mobile phone, tablet or PC. The portal and apps are mobile friendly and will automatically format to fit the screen of the device being used. Authorized users enter their credentials and authenticate their login by entering a two-factor authentication code. The two-factor authentication helps to secure and protect your data. Administrators are able to regulate which apps users have access too, limiting apps to only those that are essential to an employee's role.
Think of all the processes you could simplify, time you could be saving, and live data you could review just by capturing data electronically. Questionnaires, time and expense reports, and QR badges electronic capture will help reduce the need for paper, promote automation of everyday processes, and help you to stay focused on the job at hand, not worrying about if paperwork was processed or recorded.
If you're ready to start automating processes and capturing data more efficiently, BIG's software consultants and developers are ready to chat. Reach out to us today.